The Importance of Regular Garage Door Maintenance for Longevity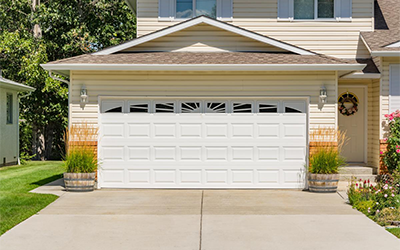 Your garage door is a hardworking component of your home, providing security, convenience, and protection for your vehicles and belongings. Like any mechanical system, your garage door requires regular maintenance to ensure it operates smoothly and efficiently. Neglecting maintenance can lead to avoidable problems, shorten the lifespan of your garage door, and result in costly repairs. In this blog, we'll explore the importance of regular garage door maintenance and how it contributes to the longevity and performance of your garage door system.
Enhanced Safety: Regular maintenance helps identify and address potential safety issues, such as worn-out springs or frayed cables before they become hazardous. This ensures the safety of your family and prevents accidents.
Optimal Performance: Well-maintained garage doors operate more smoothly, reducing wear and tear on individual components. Lubricating moving parts, inspecting tracks, and adjusting springs contribute to optimal performance.
Extended Lifespan: Like any mechanical device, your garage door experiences wear with regular use. Routine maintenance helps catch minor problems early, preventing them from escalating and extending the overall lifespan of your garage door.
Cost Savings: By addressing minor issues during maintenance, you can prevent major breakdowns that may require costly repairs or even complete replacements.
Preserved Curb Appeal: A well-maintained garage door enhances the overall aesthetics of your home. Regular cleaning and upkeep prevent unsightly rust, corrosion, or damage, preserving the curb appeal.
DIY Tips for Garage Door Maintenance
Visual Inspection: Regularly inspect the garage door for visible wear and tear, such as dents, rust, or chipped paint. Pay attention to the cables, springs, and rollers for signs of damage.
Lubrication: Apply a silicone-based lubricant to the rollers, hinges, springs, and tracks to reduce friction and ensure smooth movement.
Tighten Hardware: Check and tighten any loose nuts, bolts, or screws on the garage door and its hardware.
Weatherstripping Check: Inspect the weatherstripping around the garage door to ensure a tight seal, preventing drafts and maintaining energy efficiency.
The Value of Professional Garage Door Inspections
While DIY maintenance is valuable, professional inspections provide a comprehensive evaluation of your garage door system. Trained technicians can identify hidden issues, conduct essential adjustments, and perform in-depth tests to verify the door's safety and functionality.
Regular garage door maintenance is vital for ensuring the longevity, safety, and optimal performance of your garage door system. Whether you perform DIY maintenance or seek professional assistance, investing time and effort into caring for your garage door pays off in the long run. At Omega Garage Doors, we offer expert maintenance services to keep your garage door in top condition. Contact us today to schedule a maintenance check and prolong the life of your garage door.