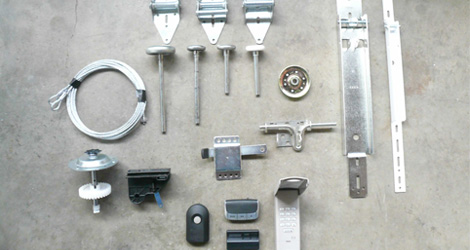 Just as important your garage door is, its parts are equally important too in terms of their functionality. A garage door depends on the good working condition of these parts for a smooth functioning throughout the year.
These parts are highly prone to wear and tear and neglecting regular maintenance check can lead to their permanent failure in no time. This is the reason not even a single customer of Omega Garage Doors has seen a component failure.
The simple reason being that we inspect our customer's garage door and its parts on regular basis and look for any possible wear and tear. This makes us treat the part which is likely to tear apart in the future and also save a lot of money of our client in getting the part replaced.
Don't Get It Repaired Unnecessarily!
Yes! It is very much true that repair is less costly as compared to replacement but that does not mean repair can be done in every situation. If a part has got worn out a bit, repair is definitely worth the shot but if it is completely worn out, it makes no sense to repair it.
Over the period, it will again ask for repair. This is dangerous as it can cause some serious injury to you or damage your vehicle. Even we look forward to saving our client's hard earned money by trying to repair it first but if it needs replacement, we are very honest about the same.
Our Branded Garage Door Parts
When you are looking for a high quality replaceable part, you can trust us blindly as we deal in only branded and genuine spare parts. Till date, none of our replaced part has got damaged within the warranty period and it is of this trust that we have become one of the most sought after names for garage door spare parts in Vaughan.
Extension and Torsion Springs
Rollers & Track Hinges
Steel Strand Cables
Travelers
Safety Cables
Gears & Couplers
Weather Stripping
Pulleys & Struts
Motor Arms
Circuit Boards
Transmitters
Idlers & Motors
Belts & Chains
Fixtures & Bottom Fixtures
Keypad Receivers & Accessories
Garage Door Opener Failure
Garage door openers are one of the most important part of a garage now as they provide a lot of convenience to their owners. These openers can also wear out over the period disrupting the daily life of a lot of customers. This is the reason why we provide same day emergency repair and replacement of garage door openers with leading brands like Liftmaster, Genie, Chamberlain and many more manufacturers.