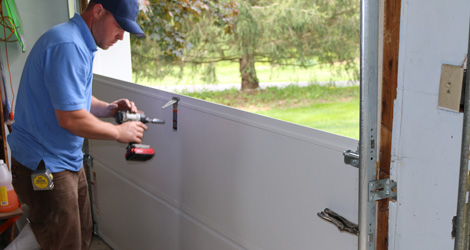 Do you want to fix your broken garage door or replace the damaged springs? We are here to provide top-notch repair solutions. At Omega Garage Doors, we offer high quality overhead door repair and replacement services to both residential and commercial clients. From installing a new garage door to replacing the door sections, we do it all. Our team of overhead door professionals in Vaughan work hard to ensure a smoothly operating garage door, so that you become your loyal customer for upcoming repair needs.
With us, you can rest assured knowing that your investment is in the expert hands. Our team is dedicated to resolve every door issue with utmost precision. Along with offering repairs, we make sure that your garage door works efficiently for years to come by maintaining each of its element. We have earned reputation and trust from our worthy customers, due to the excellent service we offer in a pocket friendly budget.
A garage door repair service includes:
Clean and adjust off track door
Lubricate all moving parts
Check every part for tear and wear
Service door opener
Check all pulley wheels
Check cables to ensure they are not damaging or fraying
Adjust drive chain
Re-tensioning spring
Check photo electric beam
Fixing noisy overhead door
Panel replacement
When you are deciding to repair or replace your overhead door, our professionals are happy to help you by giving you their suggestion. If you are experiencing with any small or big garage door problem, don't wait for the last minute, call us.
Do you need garage door repair service in Vaughan?
Omega Garage Doors provides garage door repair services throughout the Vaughan. If you are facing problem when you open and close your overhead door, it needs to be a repair service in order to offer the maximum convenience to your family. You can contact to Omega Garage Doors for all garage door repair and maintenance issues.
Whether you need an automatic door or standard door repair services, our professionals can perform it for you. It does not matter you got the problem in the early morning or at midnight, we will be there to assist you. Our highly adept professionals can handle any type of door repair problem.
Why Rely on Us
When it comes to garage door repair and maintenance service, you don't want to take any risk. We, at Omega Garage Doors, are locally owned overhead door service provider. Our fully certified, insured and licensed professionals make sure to deliver you the best possible solutions so that you get true value for your hard earned money. Customer's satisfaction is our top most priority. When you call us, you don't need to take tension because your garage door is in safe and professional hands and will work smoothly for years to come.