How To Clean A Garage Door?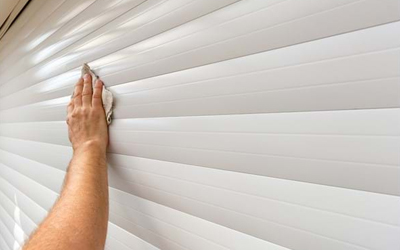 Selecting and installing a new garage door is not enough. It requires regular maintenance to ensure its smooth functioning. Periodic servicing is required because it is exposed to so many elements on a daily basis. Even more, it will help you bring a new definition to your house. After all, the garage doors make up an essential part of the exterior of the house. 
Was that not enough to consume you? Keep in mind that the garage doors come under warranties and they can be voided if you fail to keep your garage door clean. A little build-up of oil or dirt on tracks can result in a mechanical breakdown. And, this will not be covered under warranty. Let us learn more about it. 
When to clean the garage door?
A homeowner should make it a habit to clean the garage door at least two times a year. You can do it once in autumn and once in spring. However, for people living in a coastal area need cleaning more frequently. 
What kind of tools to use?
Make use of the following tools- 
A hose
A soft rag
Gentle soap, and
A bucket of water
Do not forget to use your rubber gloves and wear clothes that you can get dirty. 
What not to do while cleaning a garage door?
Take note of the following points when you plan to clean a garage door.
Never mix the cleaner with bleach
Avoid using too abrasive sponges that might damage the finishing of your door. 
Do not use the pressure washer.
Is it time to repair your garage door? Call Omega Garage Doors Now! One of the most important things to keep your garage door in working condition is to keep it clean. For best and professional repairs, you can depend upon the technicians of Omega Garage Door. Get the ultimate range of services at an affordable price.